This One's For The Birds.
That Cherry Tree Is Always Pretty In The Fall.
A Little Christmas.
Lighting The Christmas Luminaries.
Same Time Same Camera Just Turned Night Into Day!
As Seen In Other Pic's, It Was Very Dark.
Super Slow Shutter Speed Really Brings Out The Daylight.
There Is No Flash Or Other Lighting Of These.
Slow Shutter. See The Ghost Passing By!
Matt From Thompson's Landscaping Helped Alot With
Setting Up The Station. But He's Loosing BAD At Battleship!
Caught In Mid-Air.
They Can Eat A Pile Of Those Seeds In A Day.
Life's For The Birds!
That's ALOT Of Spiders!
Neighbors Cows.
A Fine Gillburg Winter Sunset.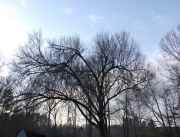 Old And Ice Worn American Elm.
Not So Bare In Summer.
I Just Like This. Fiber Optics
Light Up The Letters
In Alternate Colors.